REC Solar Panels

REC solar panels are quickly becoming the solar panels of choice for many Australian solar power companies who aim to provide their customers with quality components that have been proven to perform extremely well in harsh, real world conditions. The following are some of the great attributes of REC Solar panels that make them stand head and shoulders above nearly all their competitors;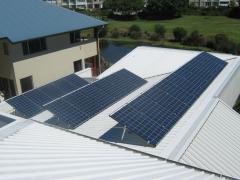 REC is a completely integrated solar company, this means that they are involved in every aspect from silicon refining to wafer and cell creation, module manufacturing to systems and project development. This high integration means a quality product every time.
REC solar panels have an energy payback time of 1 year due to the utilization of new silicon processing technology. This means after just 1 year of operation REC solar panels have produced the same amount of power that it took to manufacture them, making them a clear choice for the environment.
REC solar panels found in Australia are manufactured in a state of the art automated facility in Singapore.
Automated production means less human error and tolerances between solar panels are much closer – this equals a high quality product with a higher power output every time.
Proven in independent testing by Photon and the Fraunhofer institute to output more power in real world conditions than competitors (see the links below).
Positive power tolerances on all REC solar panels means you always get the power output that you paid for or better.
10 year material & workmanship warranty coupled with a 25 year linear power output warranty provides peace of mind for your future solar power production.

View REC Solar panel data sheet
View Photon yield measurements of 40 different solar panels (2.6MB)
View Fraunhofer Institute solar panels report
View REC solar panel warranty
Visit the home of REC solar panels online